A member of HK Strida Club bought it from Taiwan.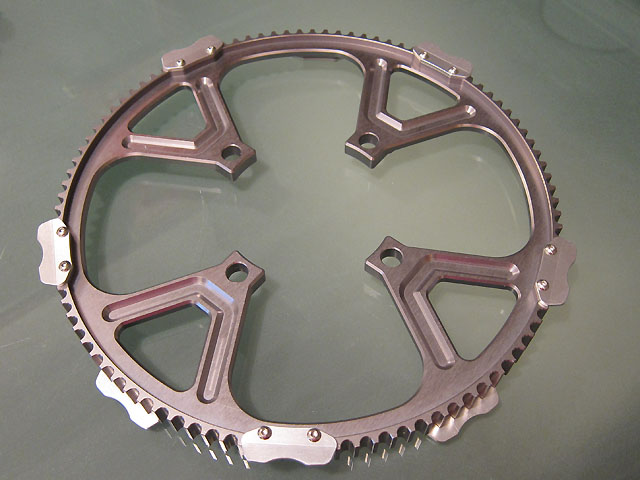 That looks like a direct replacement for the original plastic one and keeping the cranks instead of changing out the entire freewheel. Where did he get that and how much?! it looks nice!
seen on Hongkong Strida Club:
…will be updated…
There is no further information available about this wheel on HK Strida Club by now.

I am slightly mad about titanium, so the picture has been sent to a guy in Germany, who produces custom-built machinery parts, he works with aluminium, stainless steel and titanium!



W. r.
Photos taken at a recent gathering of Hong Kong Strida Club.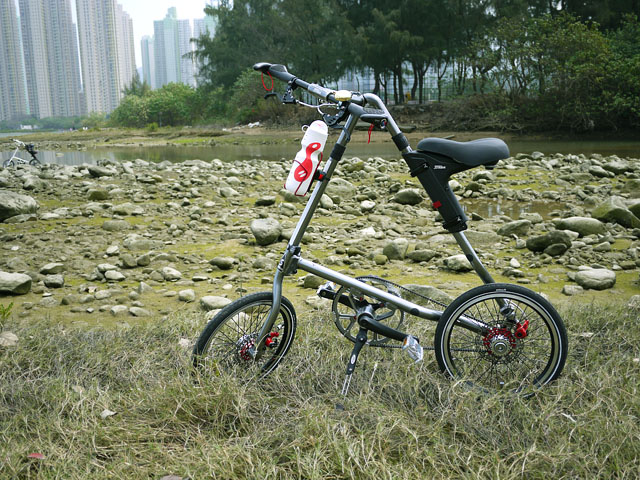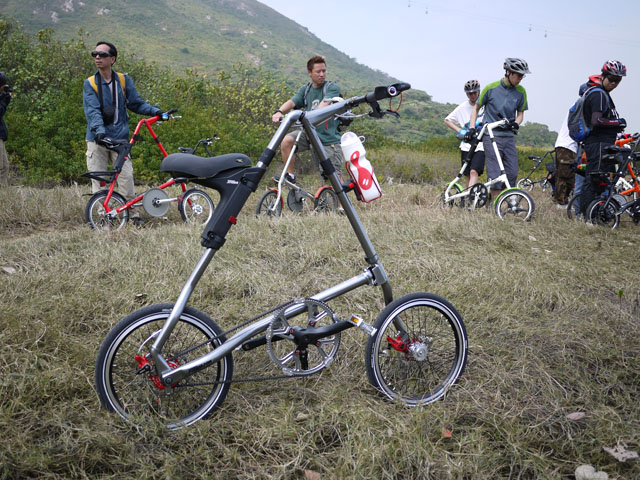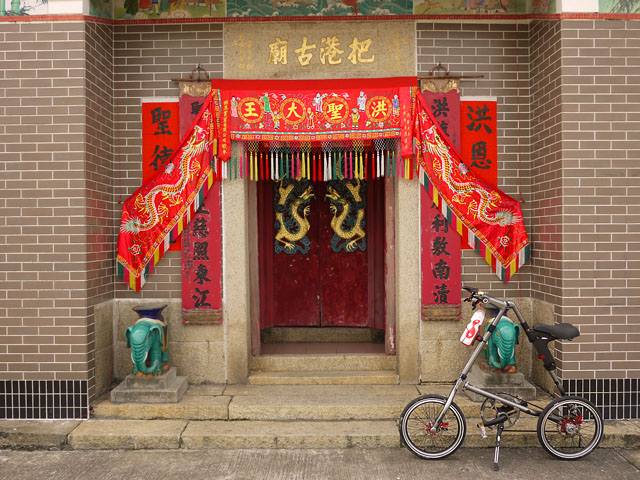 Thanks Amuro,
for my opinion, this (relatively) simple wheel makes the Strida much more gracile.
The bike looks far better as a whole, a little more pure technical and with higher value than a Strida with plastic belt wheel.
Didn't, at your gathering, somebody ask the guy where he's got the wheel?
However, according to Mark Sanders' suggestion, gaps in outside guard are bad because they catch trousers.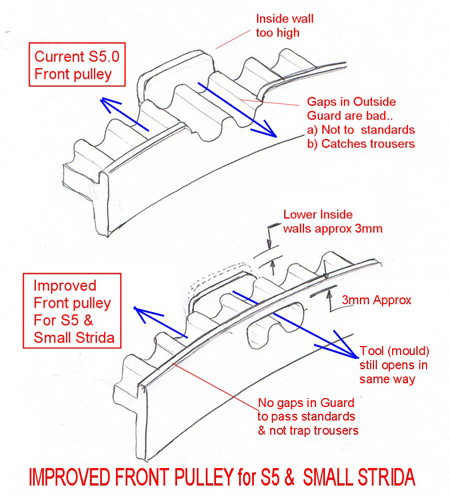 I am not sure because I was not close to him during the gathering.

That means you did NOT arrest him???

Yes, because I was concentrating on climbing the hills.

Hey amuro how high of a grade can you guys climb on the strida? I know I can easily do a 5-6% grade on my way home with the 18 inch wheels. Also I notice we get better at it too since we are only stuck with one gear you have to get stronger instead of lowering a gear.
it's a real nice chainwheel but for 1000 euros I might as well buy the schlumpf!
Hi Ed,
I think it depends on how heavy and how strong we are. As a heavy guy, it is more difficult for me to climb up a long incline than to climb up a short and relatively steep incline.
I think the low rolling resistance of the 18" high-pressure Schwalbe Kojaks tyres compensates a lot of the added gear ratio on hill climbing as well as giving a faster speed on flat terrains.

If you are interested in knowing how hard we climbed up the hills during the recent gathering, you can watch these videos.


youtube.com/watch?v=FhITiLzYpow
youtube.com/watch?v=7RnE097jZiY
youtube.com/watch?v=410Kb0RfgyY
youtube.com/watch?v=Ko9HFEinP1U
youtube.com/watch?v=RJyuxvKKYwU
youtube.com/watch?v=QGvQmzwZAeQ
youtube.com/watch?v=XoTzzYvmjTk
youtube.com/watch?v=olJtpqM4aBw
youtube.com/watch?v=86E-ng_-7ls
Amuro
I looked at some of the videos and it seems like some of those guys are carrying everything and the kitchen sink on their stridas with multiple bags like they're going camping. haha!
but can you google maps that bike trail that you guys took? i've been to hk soo many times to visit relatives and NEVER have seen bike trails like this!
Yes, here is the link:


http://maps.google.com.hk/maps/ms?hl=en&ie=ISO-8859-1&msa=0&msid=214385852126949242228.00049d42bb907f86f28e9&brcurrent=3,0x34015525e747cd15:0xf9bbe811afd9d3dd,0&ll=22.287985,113.936548&spn=0.052972,0.111151&z=14
Actually, it is not a bike trail but a hiking trail in Lantau island.
I looked at a bunch of those videos that hk club posted and I think I saw Amuro. he's the big guy with a sweet dual speed. one day i'll save enough to get that swiss schlumpf!
also looking at other get togethers the hk folding club posted, These hk'ers don't spare any expenses on their folders!? Brooks saddles and high quality leather saddle bags are the norm! very nice multi coloured cnc chainrings also. And TONS of customizations that would stand out in the crowd. I'd feel like a homeless guy showing up where the only upgrade I did was the 18 inch wheels hahah! really nice stridas and brommies, the birdies there aren't customed as much it seems.
I've lived in Taiwan since 2006 and as of yet have not visited HK

I must remedy that soon and take my Strida with me and join you guys! I can speak Mandarin fairly well but no Cantonese sorry, but perhaps you could teach me some if I ever get there!

It's okay. Even Mark Sanders communicated with us very well in Hong Kong.


[url]Mark Sanders in Hong Kong]
That's very cool you all got to meet him. I would really like to take a look at that book if there are any more copies.
I know he has come to Taiwan before but most likely Taipei only. I wonder if he would ever visit southern Taiwan.