Can anyone help me identify which model this strida is?
Hi Golfkit,
in principle, the shown Strida could be also a, initially 18" wheeled, Strida "SX" or a "5.xx" which was retrofitted with the 16 inch plastic wheels.
If it's in original condition, I'd say that's a "LT" version without mudguards and carrier - the LT and SX series were released in 2009, as you can verify here:
http://www.strida.com/en/company/
Strida LT (2012 frame)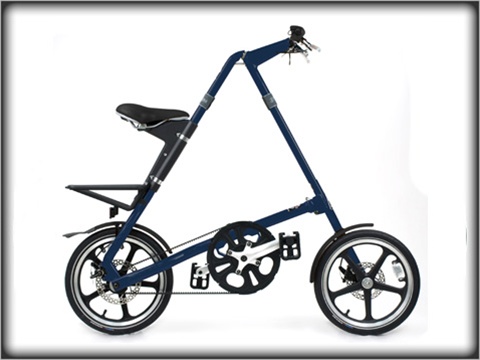 Strida LT (2013 frame)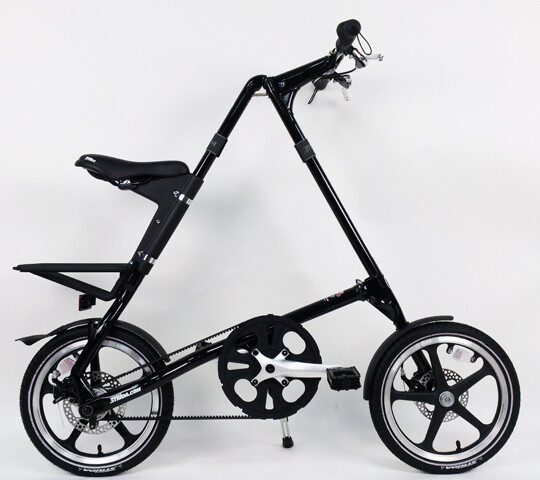 Image source: Strida Canada West
Any special question?
Weird thing about Strida is that when you change the wheel set it becomes a different model.
I bought a 2nd hand SX and downgraded the wheels to 16" spoked wheels and now the SX became a 5.2 model.
I would suggest a different model identification similar to that of the Brompton to immediately know the specs of the bike
Handle Bar Type
S = Straight
B = Bended
M = Moustache
Drive Train
1 = Single Speed
2 = SD
3 = EVO
Wheel Size
14S = 14" Spoked
16P = 16" Plastic
16S = 16" Spoked
18 = 18"
Handlebar Type + Drive Train + Wheel Size
So when asked what's your strida model I'd say
S1-14S = Mini
S1-16S = 5.2
S1-16P = LT
S1-18 = SX
S2-16S = SD with 16" spoked wheels
S2-16P = SD with 16" plastic wheels
S2-18 = SD with 18" wheels
S3-16S = EVO with 16" spoked wheels
S3-16P = EVO with 16" plastic wheels
S3-18 = EVO with 18" wheels