That's a cool report, pretty surprising you went quite the distance in those few days on your strida without any problems. I saw your setup it's pretty much as comfortable as it can get, brooks, big carradice bag for everything and ergons with the upright seating I guess neck and hand pain doesn't really exist. Also looks like you are sporting those marathon pluses just so you can minimize any punctures on the trip. which is the last thing you really need. The belt looks pretty much maintenance free in the dry dusty weather where a chain would have collected quite a bit of grime by now. with the two speed i'm thinking you are mostly cruising around 20km/hr on the low gear cause on high with the 18 inches tires that's like almost 80 gear inches and would kill your knees on the first day already

.
Great tour!

Your are right about the tires. I use Schwalbe Marathon Plus. I think will need a new one for the rear wheel now.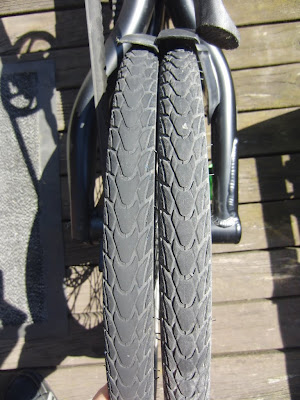 And I had to go back, too: http://a-strida-in-cologne.blogspot.com/2011/06/down-river-report.html
For the speed. You expect to much. I had an average speed about 15.1 and 17.5 km/h. It mostly depended on the headwind and the quality of the cycle way.
Hand pain does exists. But with gloves it was manageable. It was gone as soon as I was off the bike.
Great report and pictures.

Typical German weather tho' … always great during working days