Strida - Rear Rack Bag by SiamSTRIDA
Bangkok THAILAND
Strida - Rear Rack Bag by SiamSTRIDA
Bangkok THAILAND
http://www.siamstrida.com/webboard/images_upload_answer/20082121116401.jpg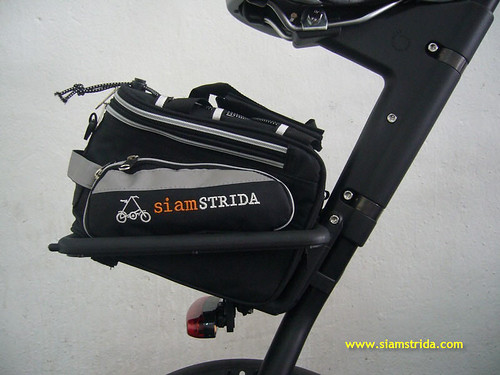 picture from flickr.com
http://flickr.com/photos/23643389@N08/2267658368/
picture from siamstrida.com
http://www.siamstrida.com/webboard/aspboard_question.asp?GID=421
community
http://www.siamstrida.com/webboard.php
How can I buy this item from the U.S?
I have no idea.
we are available for sales in Thailand only.
What? No ebay store? Airfare is a deal-killer.
I just had a friend visiting Thailand and he tried to buy this SiamStrida rack bag for me while there. He phoned to locate the store but was told by someone there is no store. Sales are web-only he was told but this rack bag does not appear anywhere on the siamstrida.com website. Neither do the other items shown in other posts - the rack-mount tail light and the carbon fenders.
Does this rack bag really exist?