This is an official platform for STRiDA bike users to show their pictures and bikes.


http://photo.strida.com
Error 404

Actual link after Strida website relaunch:
I'm so excited to have gotten my Strida SX in the mail! I'm a fan of the retro look, as you can see.

He he, you and me have chosen the same steam punked handlebar and saddle:
My LT: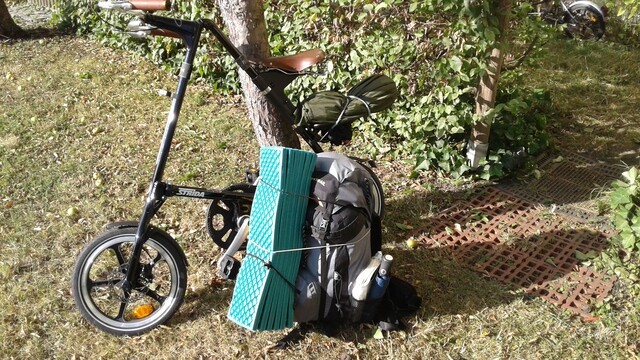 It looks like our little Strida Gallery is open and alive again. Let me join the party and present my customized EVO, how it looks today, 366 days after arrival from Netherlands. I admit the retro look is appealing but unfortunately does not fit my style.
I happen to love light green color: one of the walls in my living room is light green, so is partially eyeglass frame and many clothes etc… apple green and neon green (and neon yellow), thank you Strida!
PS If you are in Instagram, search by #StridaHelsinki to see what it takes to get this facelift done.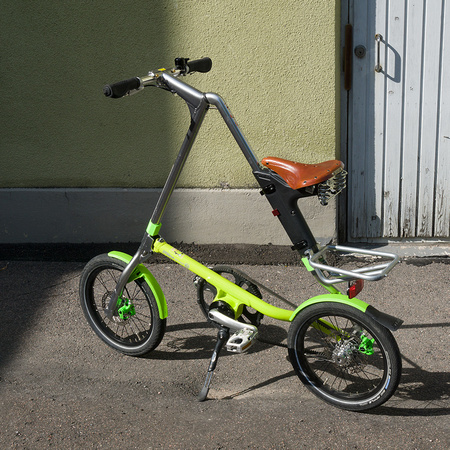 Pretty please: Copy your Instastory in the forum. Because it belongs here.

Awesome bikes here!
High five! I love the look of the m-style handlebars, and they make the ride so comfy. With these two leather pieces, I have to admit I've gone a little leather crazy, and want to get the leather portage strap from Walnutstudiolo and a leather saddlebag to match.

Love seeing custom changes to the Strida as well.

It looks so cool!
Ready for the Ukukele festival on Danube's shore:
Backpack filled with the tent, sleeping bag and stuff.
Ukulele in gig backpack.
Strida will be folded on the train ride. At the target location it will unfold all its greatness: The campside is nine kilometers away from the festival place. No problem for my steel pony and me.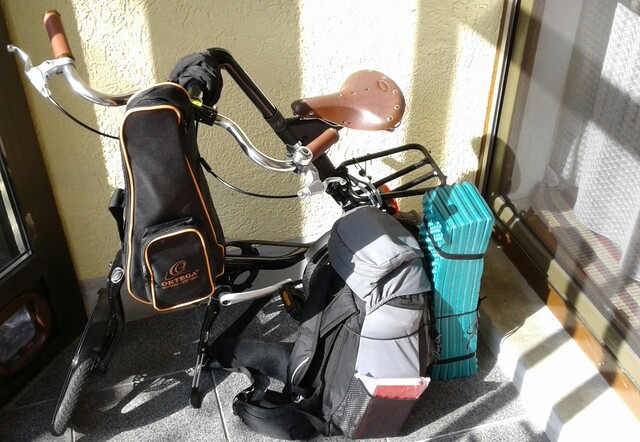 Hi Neon,
I wish you safe ride. Hopefully the weather is on your side during your trip. I look forward to see more photos… Please…
Thank you, MarSal.
But there won't be more pics. Because I'm quirky I only take an ancient Nokia cell phone from the 90s with me. It's offline and it has no (working) cam.
When I travel to special events I focus on being there, not on taking pics. Whenever a cam comes into play people stop to be in the here and now. The energy fades. The music becomes flat.
☆☆☆☆☆
P.S.: Chris recommends me to buy a headlight (to fix around my head) for the way back from the festival to the campside in the dark.
I'll follow his tipp because the cycle track along the Danube isn't the best at some sections. And with the small 16" LT wheels even a flat pothole would be enough to make me plummed off the bike. Been there, done that.

That's so funny…I play ukulele too! A whole festival sounds like a lot of fun. Enjoy your trip!
Meanwhile, I've got mine mostly traveling with me on my commute to work. It makes for a great conversation starter on the train, that's for sure. Hopefully I can soon take this baby on many adventures!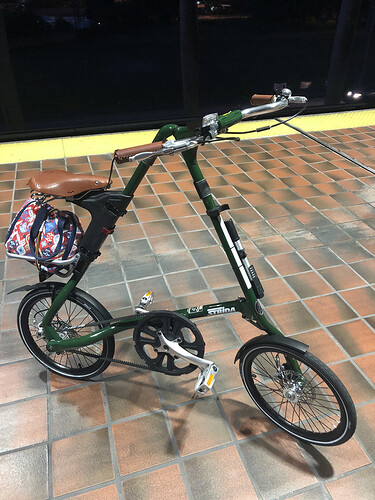 I've got a theorie: Women who ride a Strida do it because they like their stuff to be cute and small. That's why they quit the guitar and play ukulele.

Strida-adventures are airy. Okay, it depends on the person but there's always a touch of ethereal. Because the being determines conciousness and the mechanic of the Strida produces this light feeling when riding it.
You got me there! I could have gone for some other folding bike but the Strida is just so cute and noodle-friendly. I needed something I could roll around like a stroller because carrying around a steel briefcase is just a non-starter for me.