I am owner of a Strida 3 and lately the front wheel bearings (part no. 437 of the manual) makes a bad noise like "click". The bearing in question is placed on the lower part of the axle, in the middle of the drum brake.
I've tried to remove that bearing several times without success.
Part of discussion is posted here: Strida workshop tool guide.
It seems that on my strida version one bearing is pressed directly on axle and the other one is pressed inside the wheel. There's no spacer between two bearings, I think because the thick of axle is 12mm as the diameter of inner bearing ring.
Last night I removed the front wheel (where the noise comes from) and unfortunately I noticed that the bearing (part no. 437) was definitively broken, and the other one was also compromised.
Now I've got the axle with only the inner bearing ring pressed on axle. Next some images.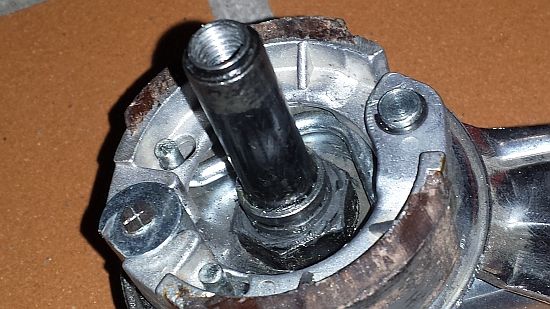 In the last image shown above is highlighted the blocked inner bearing ring.
At this point I'm asking if somebody could help me to:
understand how to remove the broken inner bearing ring
understand if there's rust problems which causes the bearing block on axle (or spacer if is present?)
Thanks for your support. The explanation was very clear. My strida locking system originary was with plastic clip. I've changed it with the magnet and magnet keeper and I checked that magnet does not get in touch with neither hub nor outer bearing ring or bearing cover. On my Strida there's a unique washer (about 3-4 mm high and with diameter like inner bearing ring) which covers the final part of the axle. The pressure (I suppose) should not create high axial stress to the radial bearing.