Hi All,
Hoping someone can help answer this?
So after another crunching another 3000 km since my last post I think I am wearing the freewheel out and I have a belt tension issue. (I'll fix that at the LBS!)
My question is though - due to the tension issue or freewheel wear (?) - my belt slipped out 2 km from home which was indeed lucky as I was on route for my 70KM cycle run on the Strida EVO. This is the 2nd time it has occurred in m Strida ownership (of 2 years / 13,000KM) and I hate to think I be stranded at night in some quiet road where I can't hail a taxi (I ride in areas with no street addresses…).
Anyway the belt slipped out and I can;'t get it back in. It's come off and past the crevice / gap between the snubber wheel and freewheel. Please see pics attached.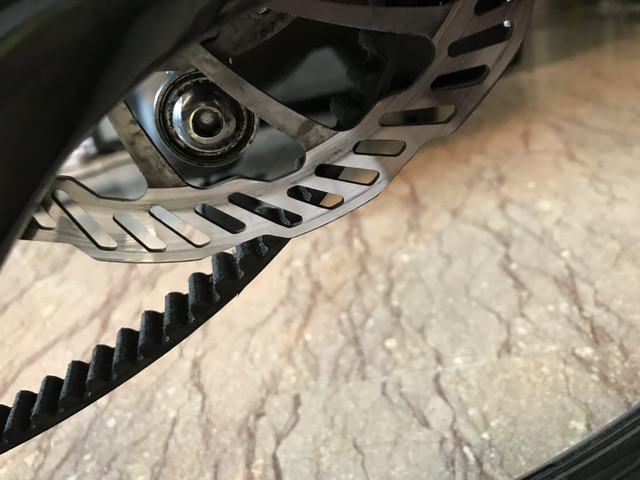 See how the ROUND BEARING SNUBBER wont clear the gaps in the disc break.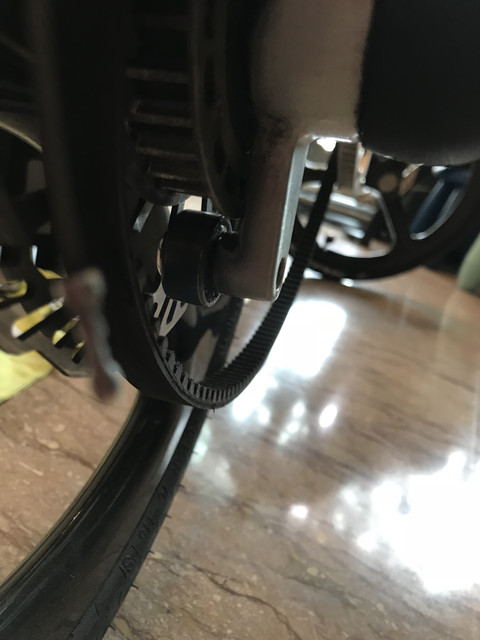 My question is - is there an "EASY" for me to take the Snubber off and fix the belt back on - and then ride home? I just don't like the idea of 40KM+ away from home when it happens.
I can't unscrew the Snubber out as the bearing hits the disc brakes…(it's just too big to fit thru the gap of the disc break) so that I can then slip kelvar belt back onto free wheel and then screen back the Snubber on … ie. as I can't take Snubber off …meaning i need to take everything apart to put the belt back on or am I missing something?